Launch of new handkerchiefs with auspicious Japanese patterns, including the Chinese zodiac sign of the tiger, plum blossoms, and turtles
The HIKKOMI series, which features a unique design of an animal pulling the edge of a handkerchief, will feature a tiger, the Chinese zodiac sign, as well as other new handkerchiefs with Japanese patterns depicting auspicious motifs, available from today.
The new handkerchiefs include "Twisted Plum," a pattern of twisted plum petals that symbolizes vitality and is considered to be a cause for celebration because it is the first to bloom in the cold winter, and a Vietnamese hand-embroidered turtle handkerchief with delicate craftsmanship. For a limited time only, we are offering free New Year's special wrapping. How about a gift to express your gratitude to those who have taken care of you this year, as a year-end gift or as a New Year's greeting?
HIKKOMI Tiger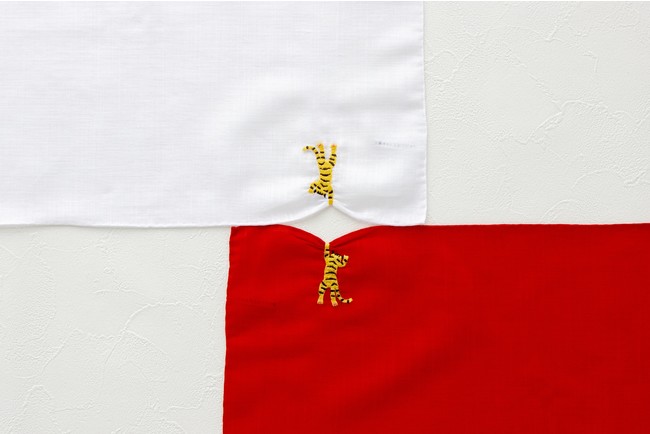 This unique handkerchief features an embroidered scene of a tiger, the Chinese zodiac sign for the coming year, hanging down with one hand.
2,200yen (tax included)
HIKKOMI Tiger Click here for details
Twisted Plum
A new addition to our Japanese pattern series is a handkerchief with a design of twisted plum blossoms, which has long been a favorite pattern for family crests and kimonos. This gorgeous combination with a set of Mizuhiki handkerchief with a characteristic white line in the center is recommended as a New Year's gift.
2,200 yen (tax included) 4 colors: Green / Purple / Red / Black
Twisted Plum Click here for product details>.
Click here for more information about Mizuhiki products.
Karashoen - Vietnamese hand embroidery turtle
A new series of Vietnamese hand embroidered handkerchiefs designed based on the precious Noh costumes of the Shukugawa Noh Stage "Gashouen". The series will also include new carp and dandelion designs. We recommend that you combine this gift with a celebratory crane to wish for a long life.
8,800 yen (tax included)
KARA-SHOEN Vietnam Hand Embroidery Series Click here for details >
Celebration Crane Click here for details

New Year's Day Embroidery Series: OneFuji, Two Hawks, Three Eggplants

/ Pine, Bamboo and Plum
This handkerchief is embroidered with the image of "One Fuji, Two Taka, Three Eggplants" and "Pine, Bamboo and Plum" which is said to be good luck to see in the first dream. A handkerchief for New Year's Day and other special occasions.
2,750yen (tax included)
Oshogatsu Embroidery Series Click here for details >

[Limited time embroidery order].


At the
following stores, we offer embroidery service of "1 Fuji, 2 Taka, 3 Eggplant" and "Pine, Bamboo and Plum" for a limited time from December 15 (Sat) to January 31 (Mon ).
You can embroider your favorite handkerchief to make a special one.

The cost of the handkerchief and the embroidery fee will be ¥550 (tax included).
The time it takes to receive the handkerchief will vary depending on the number of handkerchiefs ordered, the contents of the handkerchief and how busy the store is.

<Store Locations>
Roppongi Hills Main Store, Nihonbashi Ningyocho Store, Marunouchi Store, Toranomon Hills Store, Fukuoka Ohori Koen Store
Limited Time New Year's Limited Wrapping
From December 15 (Wed.), 2021, for a limited time only, we will offer free noshi-style wrapping with a pine, bamboo and plum design. This offer will end as soon as it is gone.