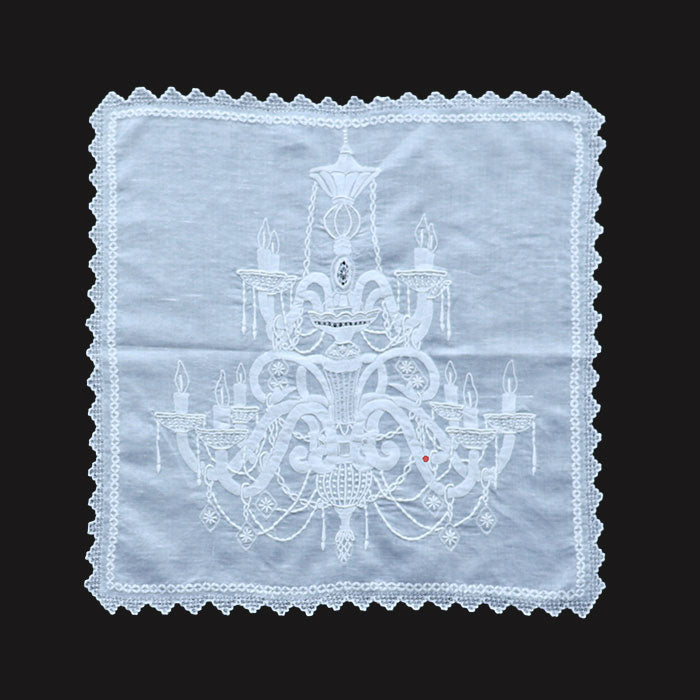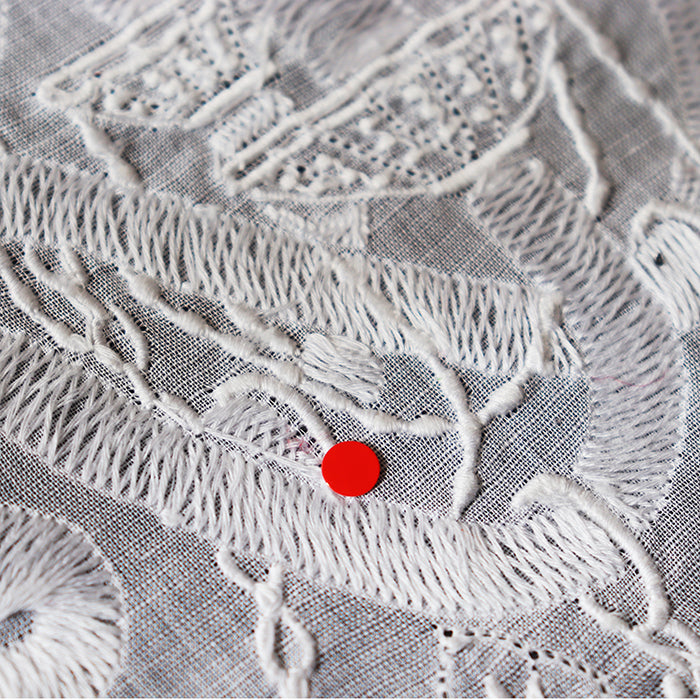 SKU: 081955-0001-07/26-8102-10
Hand Embroidered Shantou Handkerchief - 26-8102
Sale price

₱7,900.00
Regular price

₱15,700.00
(/)
---
Shantou hand-embroidered handkerchief.
Please check the reason before you purchase.

------------------------------------------------------------
This hand embroidered handkerchief is designed in the image of a chandelier, arranged in a modern style using the Shantou hand embroidery technique.

Early 18th century.

Shantou, the city where droning work techniques were brought by Italian missionaries. It is an old port town facing the coast in the southern part of mainland China, where at that time there was an idyllic atmosphere with Chinese sailing ships called "junks" anchored in the harbor. In this area, many women were engaged in handicraft work as domestic jobs.

European traditional embroidery techniques were brought to Shantou, and the ancient Chinese designs of phoenixes and dragons were fused with Western sensibilities to establish "Shantou embroidery" as one of the three major embroideries in China.

Women grow up watching their mothers stitch needles from a young age and learn to hold the needles by watching and imitating, and by the age of five, they can do simple embroidery by themselves. By the time they are 15 years old, many of them are involved in embroidery work. They have embroidery frames made of bamboo or rattan, needles, thread, and scissors. Using only a frame made of bamboo or rattan, a needle, thread, and scissors, the embroiderer inserts the needle at an astonishing speed and beautifully finishes even the most intricate designs using more than 100 different embroidery techniques. 

In this way, the technique was handed down from mother to daughter for more than 200 years. The fact that many of the designs are still the same as when they were brought from Europe adds to the antique charm.

This Shantou handkerchief conveys the excellence of handcraftsmanship. The use of natural fibers makes the handkerchiefs highly absorbent and practical, which is also a big attraction. Unfortunately, with modernization, this tradition has almost died out.Please take a look at the Shantou handkerchiefs, which are becoming increasingly rare.


Please note that initial embroidery and wrapping are not available for this handkerchief. Please note that we do not offer initial embroidery or wrapping.
41×41cm綿50% 麻50% 刺繍糸:綿100%中国製
箱を空けたあとは、オーナメントやブックマークとしてお使いいただくことができます。
オンラインショップでは、ギフトラッピング「あり」→ギフトオプションからご希望のラッピング画像を選択ください。
刺繍を入れる場合は【あり】を選択。刺繍を入れない場合は【なし】を選択してカートへ進んでください。
※1文字以上の刺繍は承っておりません。
<Size>
1cm~2cm : #3,#5,#15,#17,#19,#22
2cm~3cm : #1,#6,#7,#9,#11,#21#28,#31
3cm~ : #26
※No.7は文字部分のみ糸色変更可

2枚のうちのどちらかの商品で箱を購入下さい。
1枚目は箱を選択、2枚目はラッピング「なし」を選択ください。
桐箱は1枚入れとなります。
2枚以上はお入れ出来かねます。
ギフトラッピングご希望の方は、必ずギフトラッピングを選択しご希望のラッピングをお選びください。
ラッピングの数量は、カートページで変更可能です。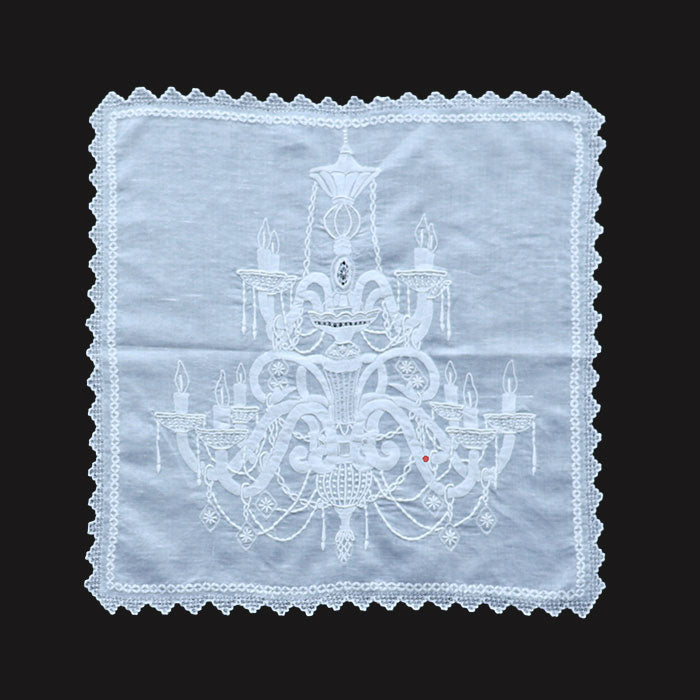 Hand Embroidered Shantou Handkerchief - 26-8102
Sale price

₱7,900.00
Regular price

₱15,700.00
Choose options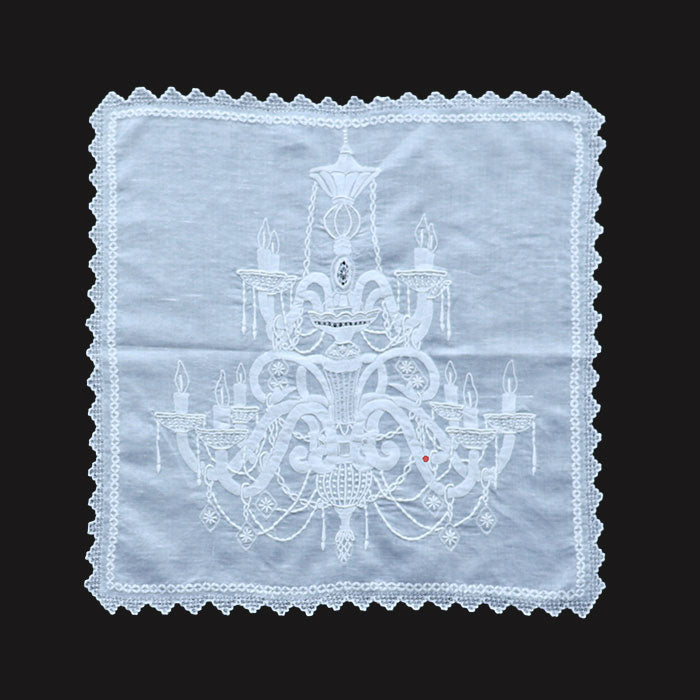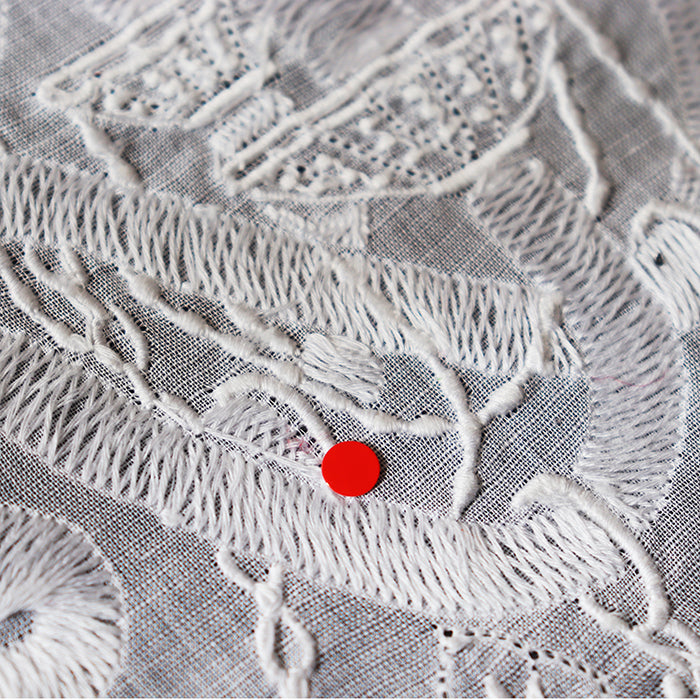 Product Inventory
loading..